Royal Palace
Architetto: Luigi Vanvitelli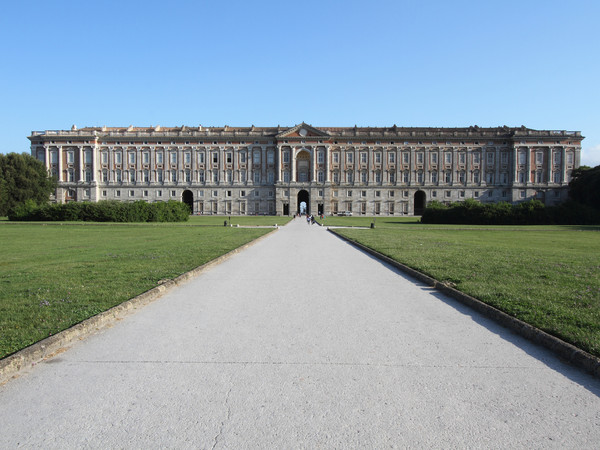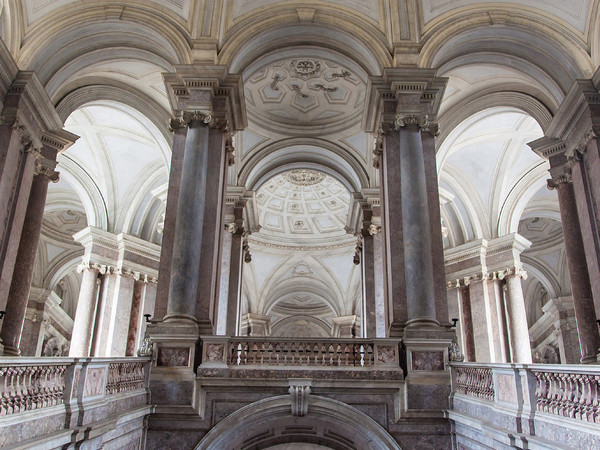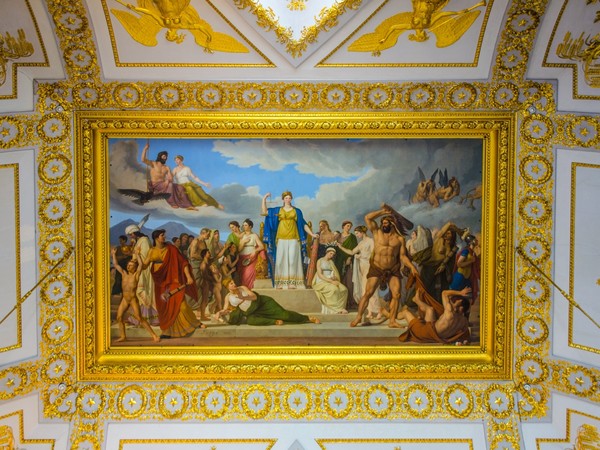 Caserta Royal Palace | Photo: Antonio Nardelli
View over main stairway in Palazzo Reale in Caserta | Photo: Matyas Rehak / Shutterstock.com
View of decoration of Palazzo Reale in Caserta. It was the largest palace erected in Europe during the 18th century | Photo: pavel dudek / Shutterstock.com
>
<
The palace is the fulcrum of the monumental complex known as the Reggia di Caserta. It is laid out in a rectangle and is divided into four internal courtyards by two structures that intersect orthogonally.
The structure occupies a surface of around 47,000 m² and reaches a height of 41 metres. The facade has an ashlar base which matches the height of the ground floor and the first mezzanine level. The first and second floors are characterised by an enormous composite order with semicolumns and fluted pilasters, whilst the windows of the last floor are integrated into the trabeation.
The genius of Vanvitelli is revealed in the axial layout which characterises the entire complex and in the continuity of perspective in the sequence: Carlo III Avenue, inner gallery (telescope) and central avenue of the park, completed by the waterfall and the fountain of Diana and Actaeon.
The palace housed the queen's apartments in the northwest wing, whilst the quarters of the king or crown prince were along the southern aspect.
Today, the historic apartments that are open to the public stretch along the latter wing and the visitor route is divided into eighteenth-century and nineteenth-century apartments.


INFORMATION
Address:

Viale Douhet, 2/A, Caserta (CE)

E-Ticketing WWW:

http://www.ticketone.it

E-Mail:

re-ce@beniculturali.it

Phone#:

+39 0823 448084

Booking E-Mail:

caserta@operalaboratori.com

Opening:

Closed every Tuesday, 1st January, 25th December. Extraordinary openings on these closing days will be reported from time to time on the official website.

HISTORICAL APARTMENTS
Opening 8.30 am - 7.30 pm | Ticket office closes 6.45 pm | Last admission 7 pm | Exit from the museum h 7.25 pm
The hours and rooms open on the itinerary may vary on the free days of #DomenicalMuseo

PARK
January 8.30 am - 4 pm | February 8.30 am - 4.30 pm | March 8.30 am - 5 pm | April / May / June / July / August / September 8.30 am - 7 pm | October 8.30 am - 5.30 pm | November / December 8.30 am - 3.30 pm | Last entry always one hour before closing
The hours may vary on the free days of #DomenicalMuseo

ENGLISH GARDEN
January 8.30 am - 3 pm | February 8.30 am - 3.30 pm | March 8.30 am - 4 pm | April / May / June / July / August / September 8.30 am - 6 pm | October 8.30 am - 5 pm | November 8.30 am - 3 pm | December 8.30 am - 2.30 pm | Last entry always one hour before closing
The English Garden will be closed on #DomenicalMuseo free days

COURT THEATER
Fri / Sat / Sun 10 am - 1 pm | Last admission 12.45 pm
The Court Theater will be closed on the #DomenicalMuseo free days

Price:

HISTORICAL APARTMENTS, PARK and ENGLISH GARDEN 14 €

HISTORICAL APARTMENTS only (available only when the Park is closed) 10 €

HISTORICAL APARTMENTS only (available after 5 pm) 3 €

PARACODAY (can be purchased at the Corso Giannone ticket office - access to the English Park and Garden) 9 €

REGGIA TWODAYS (afternoon and next day) 17 €

REDUCED from 18 to 25 years 2 €

FREE ENTRY up to 18 years



Transportation:

By plane: 24 km from Naples Capodichino International Airport.
By car: from Rome A1 Highway (Milan-Naples) exit Caserta Nord. From Naples / Salerno / Bari A30 Highway, exit Caserta Sud.
By train: Caserta is connected to Rome-Naples line with High Speed trains.
On foot: around 5 minutes from the train station

Services: