Bodyguards Room
Architetto: Luigi Vanvitelli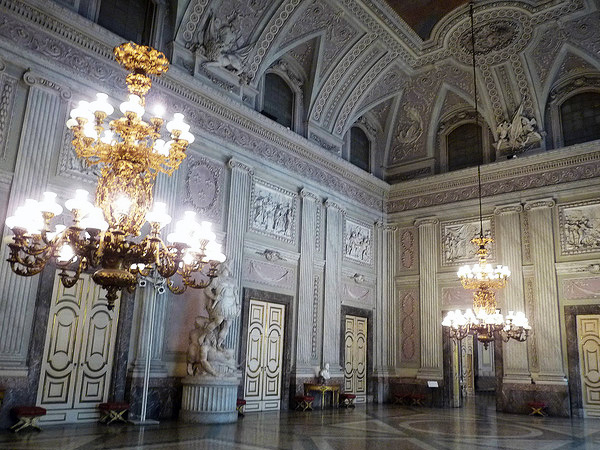 Caserta Palazzo Reale, sala delle Guardie del Corpo
POINTS OF INTEREST
The second antechamber of the King's apartments, known as the Stuccowork Room, has twelve bass-reliefs around its walls, depicting episodes from the Second Punic Wars.
On the right stands the marble Monument to Alessandro Farnese, dressed as a Roman condottiero or soldier, originating from the Farnese collection and inherited by Charles of Bourbon through his mother.
The vault displays The Glory of the Prince and the twelve provinces of the Kingdom by Girolamo Starace. The furniture comprises four consoles, made in Naples in the second half of the eighteenth century, on which the busts of the Bourbon sovereigns are placed: Ferdinand I (1759-1825), Francis I (1825-1830), Ferdinand II (1830-1859) and Francis II (1859-1860). The chandeliers in gilded bronze were also manufactured in Naples and date back to the nineteenth century.