Halberdiers room
Architetto: Luigi Vanvitelli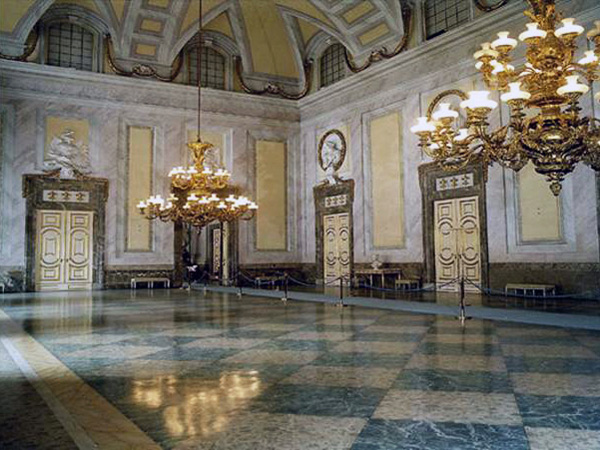 Caserta Palazzo Reale, sala degli Alabardieri
POINTS OF INTEREST
The ceiling of the first antechamber of the King's apartments is decorated with a fresco depicting The arms of the House of Bourbon supported by Virtue, painted in 1789 by Domenico Mondo (1723-1806). The walls display trophies and arms, whilst the lintels are in the form of female scagliola busts, representing allegories of the arts.
The furnishings include stools manufactured in Naples in the second half of the eighteenth century and consoles on which stand marble busts of the Bourbon queens: Maria Carolina of Hapsburg, wife of Ferdinand IV, Maria Isabella of Spain, second wife of Francis I, Maria Cristina of Savoy, first wife of Ferdinand II, and Maria Sofia of Wittelsbach, wife of Francis II.
The room has a terracotta tile floor with encaustic decoration for a faux-marble effect, created using an ancient local production technique.