Plans and Models: the Genesis of the Palace
Architetto: Luigi Vanvitelli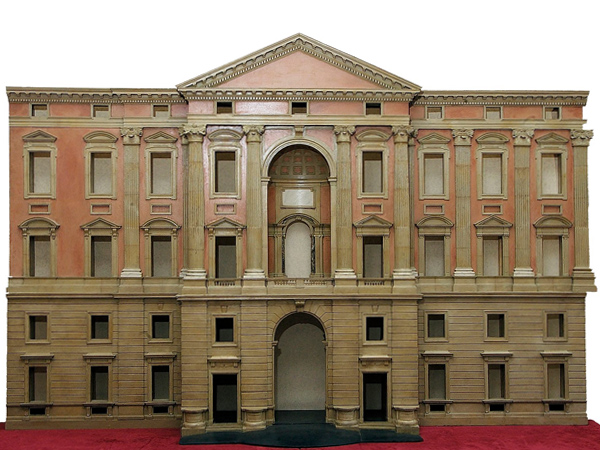 Antonio Rosz (att. 1751- ante 1806) e aiuti. Su progetto di Luigi Vanvitelli (Napoli, 1700 - Caserta, 1773). Modello della parte centrale della facciata, 1759. Legno dipinto, 75 x 215 x 50 cm Caserta Palazzo Reale,
The Throne Room's three recently re-opened back rooms present interesting artefacts from the Palace collection, some on public display for the first time. 
These include the stucco models for the sophisticated reliefs in the Mars and Astraea rooms, some precious neoclassical small bronzes, and the wooden models for spaces in the Royal Palace, many of which were created by German cabinetmaker Antonio Rosz and his workshop for Luigi Vanvitelli and his son Carlo. The group of items is rounded off by some drawings by Vanvitelli from the Palace's drawings and prints collection.

The first room is dedicated to Luigi Vanvitelli, architect, set designer, engineer, plumber, structural engineer, town planner – and designer of Caserta Palace. Giacinto Diano's portrait of him can be seen here. Construction of the Palace began in 1752.
After Luigi's death in 1773, his son Carlo took over after having assisted with the work for some time. He faithfully executed Luigi's grandiose design, which can be seen in the model on display that was commissioned in 1756 from Antonio Rosz, a German cabinetmaker who had been working on the Royal Palace since 1751. With scrupulous accuracy, it depicts the structure's central hub: the two hallways, one on top of the other, the grand Palatine Chapel and the Royal Staircase.

The second room exhibits the wooden models for some of the Palace's rooms. 
Made to the instructions of the architect Antonio de Simone and datable to 1813, they represent the Mars and Astraea rooms, two decidedly neoclassical spaces of international importance. The two models of the Throne room were created respectively in 1829, to a design by Pietro Bianchi, and in 1843/45, by Gaetano Genovese. 
A model showing the fountain of Aeolus was made by Rosz and assistants in 1777 to document Carlo Vanvitelli's efforts to redesign the Palace park. 
The walls bear a series of drawings belonging to Luigi Vanvitelli's "Dichiarazione", a work published in 1756 in Naples by the Regia Stamperia company.

The centrepiece of the third room is the model of the central part of the Palace façade. Vanvitelli commissioned it from the cabinetmaker Antonio Rosz as a useful working aid for his replacement on the Caserta building site – for he thought that he might have to follow Charles to Madrid when the latter became King of Spain in 1759. 
On the walls are the surviving designs by Valerio Villareale and Domenico Masucci of the stucco reliefs for the Mars and Astraea rooms, plus another series of drawings by Vanvitelli and his son Carlo for the Palace design. 
The room also houses five small bronzes by Francesco and Luigi Righetti, notables in the pantheon of international neoclassicism, and a gilded stucco group by Tito Angelini.