Tolentino, 1450 ca. - ?, 1520 ca.
Francesco da Tolentino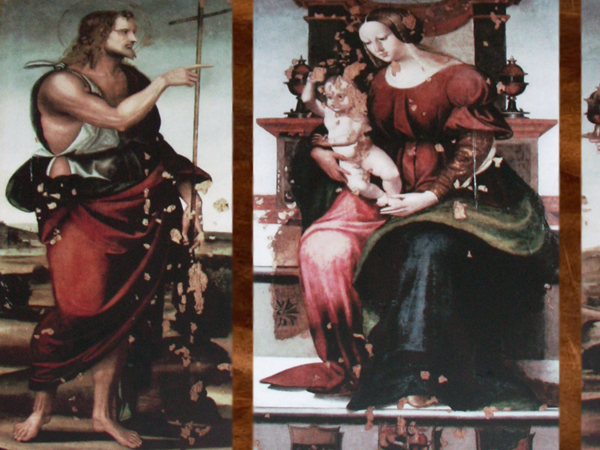 Francesco da Tolentino, Polittico, particolare, Benevento, Limatola, Castello

The biographical details of the painter Francesco da Tolentino are unknown, but he came from Tolentino and was active in central and southern Italy between the end of the fifteenth and the first half of the sixteenth centuries. The earliest work attributed to him are the decoration and frescos of the Chapel of San Catervo in the cathedral of the same name in Tolentino, where he revealed a painting style inspired by the figurative culture that emerged in the Marches at the beginning of the sixteenth century, influenced by painters of the Umbria-Urbino circle, such as Perugino and Pinturicchio. He probably arrived in Naples together with the painter Antonio Solario from the Veneto region, known as lo Zingaro ("the gypsy"), and is thought to be the artist behind various works attributed to him in the Convent of Santa Maria la Nova, the Church of Santa Maria Donnaregina and the Church of San Severino and San Sossio. In the Campanian hinterland, however, two polyptychs can be found, signed and dated 1525 and 1530 and executed at Liveri, near Nola, for the Sanctuary of Santa Mariaa Parete. The painter appears to have been active in Limatola too, where he created an entire decorative cycle of frescos of the castle for the Gambacorta-Della Ratta family and a polyptych (1527), housed in the palatine church, but painted for the main altar of the Church of Our Lady of the Assumption in Limatola. In the 1540s, he seems to have been active in Apulia, where he probably finished his career.